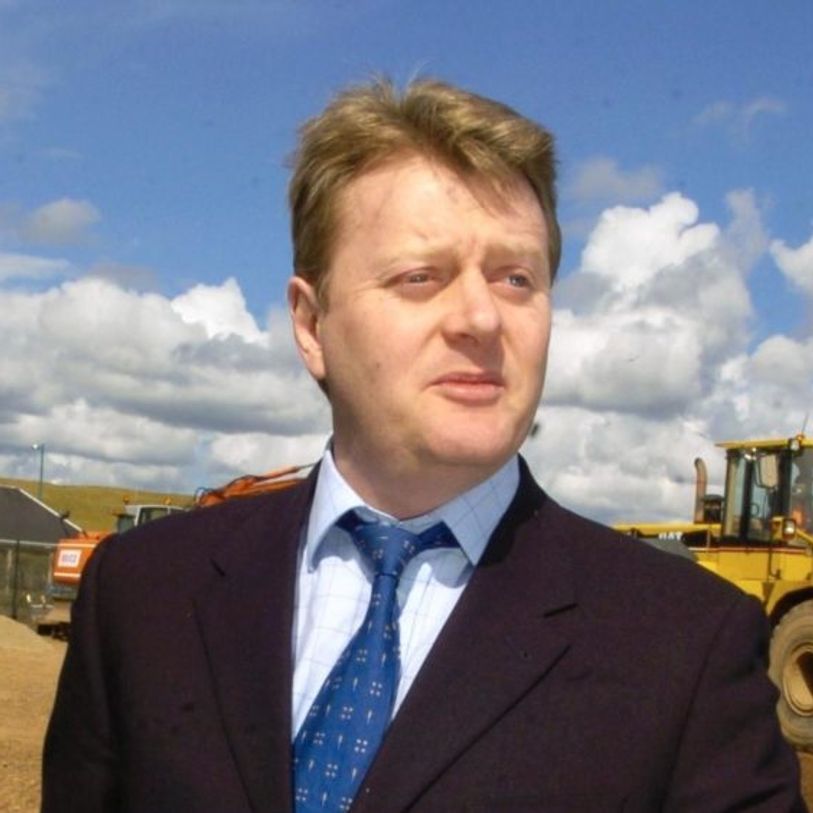 Signs of Change
Neil Stevenson
Signs of Change was inspired by a project Neil and his wife, Sheila, enjoyed in the Spanish village of Senija.
Town hall chiefs in the Costa Blanca community north east of Benidorm invited artists from across Spain to decorate buildings in a project which has boosted local tourism.  
The 57-year-old spent his career in the oil industry in Europe and the US.
He was a keen advocate of community projects, including raising £2.7 million to build the Transition Extreme Sports centre in Aberdeen.
Neil sadly passed away before he was able to see the Signs of Change project come into fruition however his vision for Kirriemuir continues and each public art piece adds to his legacy.
About
Kirriemuir "Signs of Change" is a potentially transformative project for the town - based on an exciting public art/murals/painted doors project that aims to brighten up the town, excite and engage local residents and ultimately increase visitor numbers and spend in the towns lovely small businesses, cafes, hotels and bars. A perfect way to "bounce back" from the impact of the COVID pandemic and ensure Kirriemuir benefits from the wider regeneration and tourism initiatives in Dundee and elsewhere in Angus. 
Drawing upon the success of similar projects in Aberdeen, Dundee, Glasgow and internationally, a series of iconic artworks will celebrate the proud history of Kirriemuir, the Angus Glens and some of their most famous associations (J M Barrie and Peter Pan, Bon Scott and AC/DC, Sir Hugh Munro, textiles, agriculture etc.). A walking tour of the artwork will be published to guide visitors around our lovely wee town. 
As well as celebrating our history and profiling existing attractions, the murals will project an optimistic future for the town and surrounding area, as a vibrant place to live and work, with references to our beautiful countryside, nature, tourism, Scottish food and drink, renewable energy and a bright sustainable future.
Follow the Signs of Change Facebook page to keep up with what is happening with this exciting project! 
DEN Toilets
The Signs of Change project worked together with a selected group of pupils from Webster's High School, to decorate the den toilets building by spray painting it. 
Everyone involved had a fantastic time and the results speak for themselves!
THE CUBE
The Cube was created by artist Mia McGregor, who aimed for this to be an inclusive and fun creative project for all ages and abilities to take part in. With a goal to share experiences, interact with people and spark creativity. This was one of many summer holiday workshops with DD8 Music
The expression wall
The Expression wall at the underpass at The Den is a live art piece - continuously changing and evolving.  It is open to anyone feeling creative and artists are free to use any medium!
Freenge o'Thrums
This latest creation was research driven to produce a digital collage, commissioned by Signs of Change. Highlighting extraordinary, ordinary folk connected to Kirriemuir. 
Here are a few words from James Wylie, the creator; 
"Basically the idea sprung up and grew fantastic arms and legs when I thought of putting a tribute in the town to Bill Dundee. It had been a pet project proposal of mines to put on a museum exhibit in the town about his life story with the help of his daughter but COVID hit. The idea was on the back burner until I saw the open call and thought a public art design could be a great alternative. The Hooks project was proposed by Signs of Change, and I jumped at the chance as that was six extra canvases! Six more stories of people to research, design up, and celebrate. Having Frank Kopel was an obvious addition due to his sporting career and the very real legacy Amanda has left. It was a chance occurrence I read in a dissertation of James Fyffe, Kirrie's first recorded person of colour. This was part of my own learning last year in light of Black Lives Matter. The other folk have fascinating stories as well. Even if we only know scant pieces of their lives, it's what makes Kirrie such an interesting place. I am delighted to be given the opportunity to brighten up a wee corner of my hometown " 
There is a handy key with detailed information on each individual highlighted, head down town and learn about some really great Kirrie folk.