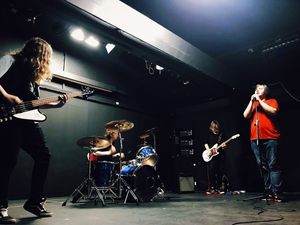 DD8 Music completed a pilot project called 'Set The Stage' in 2022 - Now with the support of the Young Start National Lottery Community Fund we are developing this pilot programme into a recurring curriculum of personal development created via the input, feedback and ideas of both the young people involved in the pilot, and from our wider group of young people who participate in our services at DD8 Music.. 
They have chosen to aptly name this project – 'Beyond The stage'. 
The aim of 'Set The Stage' was to work with young people whose education and social development had been most affected by Covid 19, it looked to build confidence and help them to develop new skills through exploring creative talent and creating live events. 
The outcomes far exceeded expectations. 
Beyond the stage will continue this work and after harnessing the ideas of our young people and exploring their immediate and future needs, together we have developed a programme that will look to address these – adding elements of volunteering and building employability skills to the already successful curriculum.
The learning process in this project is not gained via a rigid curriculum but rather a responsive one.  The young people will highlight areas that they feel they need to spend more time on – allowing a flexible approach to learning.  As a result, it will be the young people themselves who will shape activity – harnessing the expertise of the staff provided to them to enable them to reach their individual goals.
Beyond the Stage aims to work on the following areas: Confidence, health & well-being, teamwork, planning and organising, presentation skills, musical ability, problem solving, employability skills, multi-tasking, creativity, communication skills, kinesthetic learning, awareness, leadership, social skills, building strong and positive relationships.
Beyond the Stage will run separate groups for Under 16s and 16+. Regular sessions will take place at our DD8 Music Studio space in Kirriemuir on Thursdays after 4pm, with any trips or visits being notified of well in advance. The project will also be available in other Angus towns, beginning with Forfar for the first intake, running for 6 months on Wednesday evenings, also from 4pm. Venue TBC 
LIMITED SPACES AVAILABLE. APPLY NOW!
 Contact davidf@dd8music.com or scott@dd8music.com for information.
Young Start aims to create opportunities for Scotland's children and young people aged eight to 24 to help them realise their full potential. Young Start is a grants programme run by the Big Lottery Fund, which is distributing money from dormant bank accounts. Dormant accounts are deposits of money in bank and building society accounts where there has been no activity for 15 years or more.